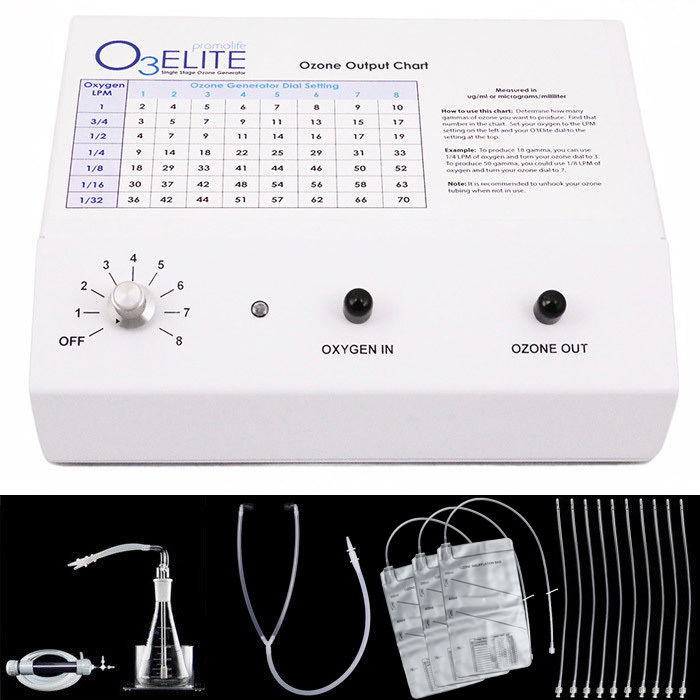 I purchased this ozone insufflation kit with the Elite single machine. It is a medical grade ozone machine. This particular kit (ozone insufflation kit) comes with everything you need to start doing ozone insufflation. Purchased together in this form allows you to know you have all the needed components while saving money. Details on how to perform ozone insufflation can be found bellow.
Quick word about oxygen tanks
You will need to use an oxygen source when using this type of machine. Using an ozonator with ambient air will give a very inferior result as ambient air only contains about 20% oxygen. Having tried both, I can tell you that using an oxygen source makes a world of difference.
I use medical grade oxygen (this oxygen requires a prescription) if you have oxygen concentrations of 88% or lower than insurance will cover the cost of the tank and refills, if not you will need to pay out of pocket. I was able to get what most call an E-Tank or 870 tank for $21. When it is empty I just bring it back in for a new one and pay $21. Since I am only using it for a few minutes at a time with my ozone machine, I have a feeling it is going to last me a while.
When getting oxygen for the purposes of using an ozone machine, you want to get an actual tank, not an oxygen delivery machine. If you can't get a prescription for medical grade oxygen, then you can easily get Industrial 540 oxygen tanks, do a search for suppliers in your area.
Ozone water
The ozone insufflation kit I purchased allows you to also make ozonated water which is a very simple and effective way of getting higher levels of oxygen into the blood stream and thus into your cells where this matters the most. Fill up a glass (or the water ozonater container if you have one) with cold spring or distilled water, drop the ozone dispenser into the glass, turn on the ozonator and wait 15 minutes. Once the process is complete, drink your glass of ozonated water and you are done. Start with just one glass per day for 2-3 days and build your way up to 3 glasses per day.
For a complete list of ways you can use ozone, I recommend the following excellent and very complete article by Dr. Frank Shallenberger: https://www.faim.org/how-to-use-ozone-to-treat-almost-any-illness-in-your-own-home
Ozone Insufflation How To
I will share here a great little video made by promolife. It explains the benefits of ozone insufflation as well as how to perform the simple procedure. Written details are also available bellow the video. Enjoy.
Ozone Insufflation Instructions
Edited from Dr Shallenberger's article listed above
Intestinal insufflation – You can use this for any condition, pre-conditioning, or chronic or acute disease. You can perform treatments up to two times a day, seven days per week.
Fill the bag with ozone (see below)
Lie down on your right side
Attach the bag to the catheter. Lubricate catheter end lightly with oil prior to insertion.
Insert the catheter at least four inches into the rectum (two inches for a child). Inject the ozone slowly by pressing on the bag.
Retain the gas for at least one minute.
It is best, although not completely necessary, to do this after a bowel movement. (I recommend doing a coffee enema first)
You want to start low and work up to a final treatment of 200 cc volume at 40-45 gamma. This allows your intestines to get used to the ozonides. Start off with 100 cc volume at 15-20 gamma the very first time. The second time increase the gamma to 30-35 gamma. The third time increase the gamma to 40-45 gamma. Then keeping the gamma at 40-45, increase the volume to 150 cc. And finally increase the volume to 200 cc. Remain at this dose.
For a child decrease the volumes as follows: the correct volume equals the adult volume times the child's weight divided by 170.
If at any time you experience pain, burning, or rectal irritation from the procedure, back off on the gamma. If there is abdominal discomfort, decrease the volume.
I recommend including ozone insufflation into a daily cancer recovery schedule. You can continue doing ozone insufflation 3 times per week as maintenance once you have recovered full health.